Are you an aspiring homeowner looking for exterior doors or external main doors to secure your house?
Euro door steel security doors brings you the most modern steel door designs in Kenya. Our technical team has gone an extra mile to ensure they offer our customers the latest design steel doors for homes. With aesthetics, strength and security taken care of, this makes these doors the best steel doors in Kenya.
Everyone has a perfect image of their DREAM HOUSE? What about your DREAM DOOR for your DREAM HOUSE? What
a) Size
b) Solor, is it
c) With glass or solid
d) Bullet proof or not.
You would be looking for the modern, latest and best steel door designs in Kenya
How about a steel security door covered by wood?
By now if you are not an expert in steel doors industry you may be wondering what these terms mean. Let me break it down for you
Introducing the African Walnut Steel Security Door Single Leaf in Kenya. (900mm wide by 1200mm High)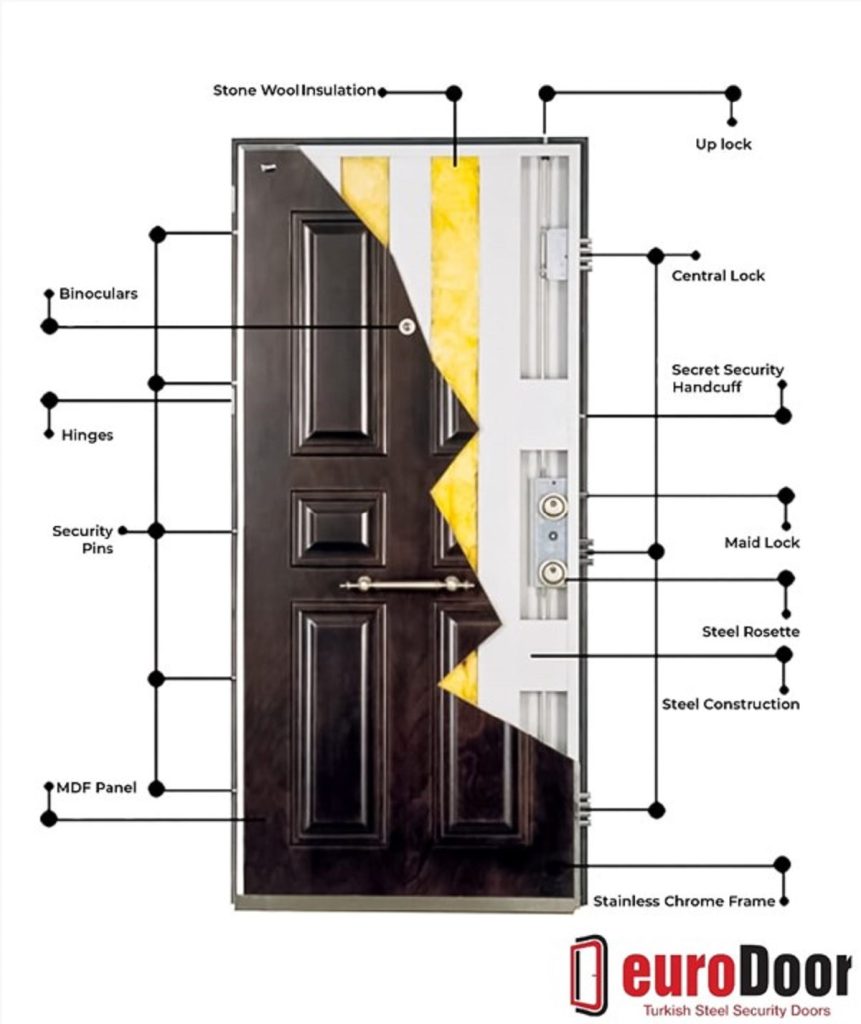 They say picture speaks a thousand words!!!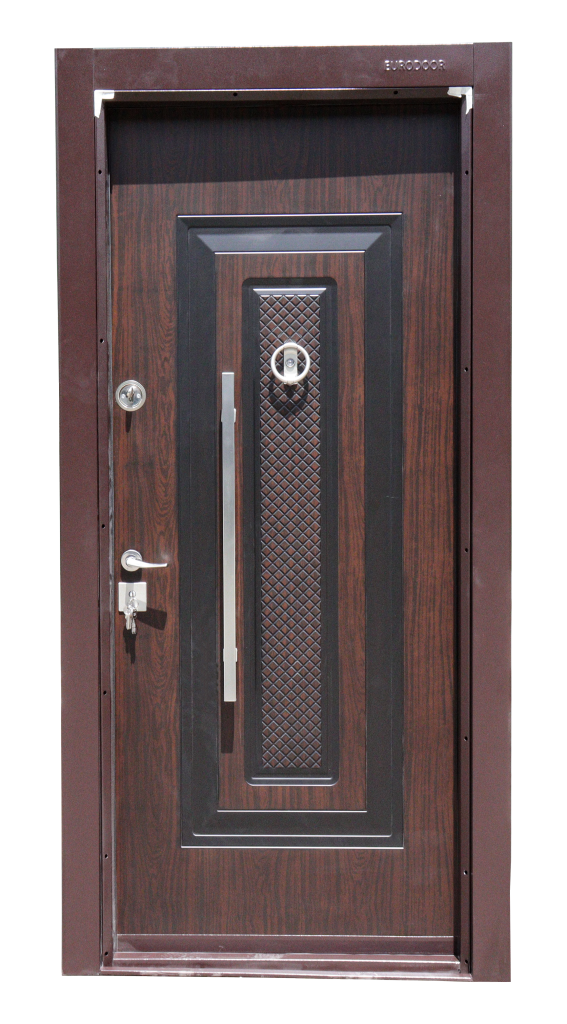 Now that you have seen the picture let's put in the 1000 words as we explain to you step by step what these terminologies mean.
1. Steel
a) 1.2mm steel plate and 1.2mm steel sheet runs from top to bottom and all sides. It's the main steel structure.
In between there's fiber glass or stone wool material which acts an insulation against sound and temperature
b) The frame is steel and adjustable 180cm to 250cm. powder coated or painted electrostatically then baked above 200 degrees to look like wood
2. Security
a) Locks an upper lock system and a lower lock system Upper lock system made of 2 lock hook system, lower lock has 3 pin barrel lock. Each lock set opens and closes 3 times.
b) Contains. Security pins: each door has six pins that look act as secret locks on the other side opposite the lock system
c) Door viewer with lens and knocker. Allows you to see the person knocking
3. African Walnut wood finish
"How about a steel security door covered by wood?"-do you recall this phrase above
After the steel structure and the insulation, the door is then covered with wood that is painted in African walnut color(brown)
This gives a warm look and finishing for your home (brown wood color) The steel frame also painted to match this wood color. Talk of aesthetics!
 4. Warranty
2 years on the door 7 years on the door and that the reason why Euro door Kenya insists on doing FREE installation FOR ALL CUSTOMERS.
5. Dimensions
a) Single -900mm wide by 2200mm high
b) Door weight is- 93kgs
6. Accessories
a) 6 locks each locking three times
b) 6 security pins
c) Main handle
d) Opening and closing handle
e) Main heavy handle from outside
7. Door is dust proof
because the entire door opening is sealed in high quality rubber to keep off dust when door is locked. This also allows smooth closing
8. Door is soundproof
Due to fiber glass material in between the steel plate you
#eurodoorkenya #steeldoors #interiordesignkenya
Sign in below to comment and ask current offer on the Euro door African Walnut Steel security door Single (900mm wide by 2200mm high)
See video below: